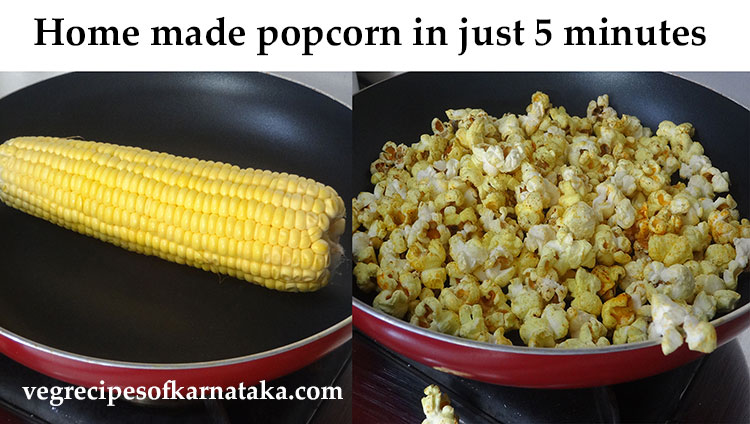 Home made pop corn recipe explained with step by step pictures and a video. Homemade pop corn is prepared using dried corn kernels, salt, turmeric, oil and a pressure cooker. This is a very easy way to prepare popcorn at home. Pop corn is prepared with very less oil and is a healthy snacks for adults and kids.
I always used to buy "ready to roast popcorn" packet as my Son loves popcorn. But one day I tried making them at home and they turned out really well. Preparing pop corn at home is cost effective too! Ao I started preparing pop corn at home. I buy dried corn kernels from the shop.
Pop corn is a healthy snacks. It is low on calories and hig in fibre. It will help you loose weight and to maintain blood sugar level. It is full of vitamins and minerals...so why are you waiting for? Go get a pack of dried corn or mekke jola...and you can prepare these crispy and tasty pop corn in just 5 minutes.
Hurigadale or roasted chana is a guilt free snacks recipe. I have already shared some guilt free snacks recipes like roasted gram, salted peanuts, hurigalu, congress kadlekai, Avarekalu mixture, carrot-mung dal salad, Mangalore churumuri, girmit, kadle usli and nuchinunde recipes.
If you are looking for more snacks recipes then do check our Karnataka snacks recipes section.
I have made a video on this recipe with Kannada narration, which I have embedded it below. Kindly have a look.
Pop corn recipe
Preparation time: 1 min
Cooking time: 10 min
Serves: 1/2 cup

Ingredients: (measuring cup used = 240ml)
1/4 cup dried corn kernels
1/4 tsp salt
A big pinch of turmeric
1 tbsp cooking oil
A big pinch of red chili powder (optional)
A big pinch of chat masala (optional)
Instructions for making pop corn:
Heat 1 tbsp of oil in a pressure cooker.
Add in 1/4 cup of dried corn kernels. You can increase the quantity as per your requirement.
Add in 1/4 tsp salt and a big pinch of turmeric. Adjust the salt level as per your taste.
Start roasting the corn kernels at high flame. Meanwhile remove the weight and gasket of cooker lid and keep it handy.
Within few minutes, the corn kernels will start to pop. Reduce the flame to medium.
Immediately close the lid and allow it to pop at medium flame. Make sure, you have removed weight and gasket from the lid. Wait until popping sound subsides.

Wait until popping sound has subsided (around 2 minutes), switch off the stove and open the lid.
Optionally you can sprinkle some red chili powder and chat masala. Or any other masala of your choice. Toss it and serve it.
Dear reader, We have a Kannada version of this recipe. Click here to read this recipe in Kannada.

You might like this: