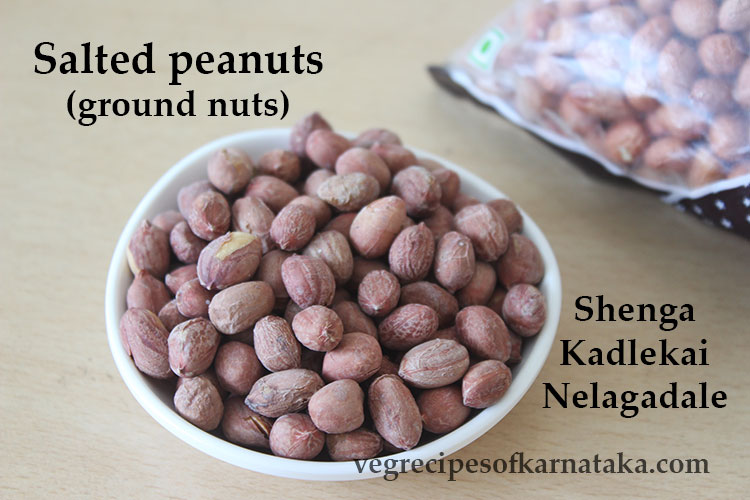 Salted peanut or roasted kadlekai or uppu shenga recipe explained with step by step pictures and a video. Home made roasted and salted peanut or kadlekai recipe is very simple and it takes very less time. Roasted shenga is a oil free, guilt free snacks. Salted ground nuts or nelagadale is a healthy snacks for both adults and kids.

These are my personal favourite. I love them so much and my son joins me too. We both together enjoy eating roasted and salted peanuts. We always buy this salted kadlekai from the carts. But one day I tried them at home and surprisingly they came out so well. To be frank better than the shop bought ones. So now I prepare this regularaly at home.

The good thing about this recipe is it is instant and it takes hardly few minutes to prepare. It needs just two ingredients, the ground nuts (kadlekai or shenga) and the salt for roasting. So I would suggest you to try this at home. And this can be a healthy replacement for the junk foods.

I have prepared and posted the salted chickpea or hurigadale recipe yesterday. Today I am reusing the same salt. Yesterday when I posted the recipe, many were asking me whether the roasting method remains same for all the seeds. Since there is a small difference in the roasting method for peanuts, I am posting the recipe today.

.

Hurigadale or roasted chana is a guilt free snacks recipe. I have already shared some guilt free snacks recipes like hurigalu, congress kadlekai, Avarekalu mixture, carrot-mung dal salad, Mangalore churumuri, girmit, kadle usli and nuchinunde recipes.

If you are looking for more snacks recipes then do check our Karnataka snacks recipes section.

I have made a video on this recipe with Kannada narration, which I have embedded it below. Kindly have a look.

Roasted and salted kadlekai recipe

Preparation time: 1 min
Cooking time: 10 min
Serves: 1/2 cup

Ingredients: (measuring cup used = 240ml)
1/2 cup kadlekai or shenga or peanuts
1 cup salt for roasting
Instructions for making roasted and salted kadlekai:
Take required quantity of peanuts or kadlekai. And soak them for a minute. Soaking helps to coat the salt better.
After soaking drain the water completely.
In a thick bottomed pan take 1 cup table salt and heat it. I am reusing the salt, which I have already used for roasting.
When the salt is hot, add in soaked (soaked for just 1 minute) and drained peanuts (shenga). Start roasting them under medium flame.
In the beginning they look wet.
After sometime they look dry, but continue roasting them under medium flame.

Roast until light brown or until the peanuts are super crispy. You can taste test one.
Take them out using a netted spatula and enjoy!.
Dear reader, We have a Kannada version of this recipe. Click here to read this recipe in Kannada.

You might like this: