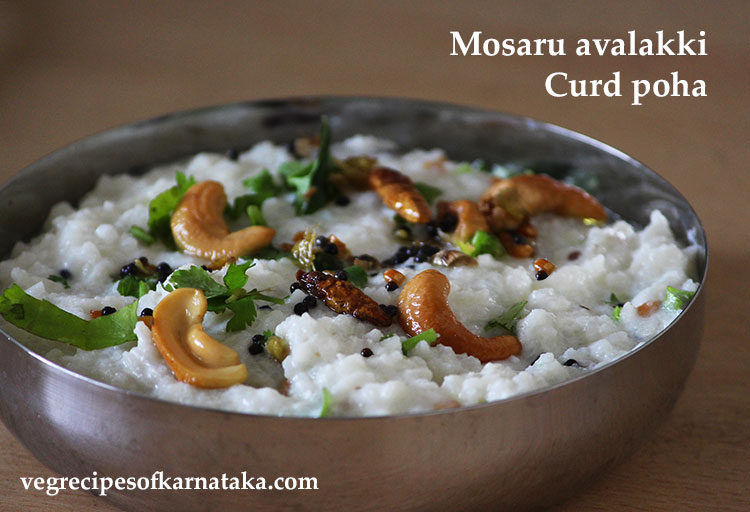 Mosaru avalakki or curd poha recipe explained with step by step pictures. Mosaru avalakki is prepared using thick beaten rice, curd, ginger and few other spices. This is a very simple and tasty recipe.
Mosaru avalakki is a very quick and easy breakfast recipe. I would say this is a bachelor friendly or beginner friendly recipe. I have used gatti avalakki or thick beaten rice in this recipe. And if you want to use thin beaten rice, then do not soak it in the water. Also if you are using medium beaten rice, then soak it for very less time. So all I want to say is soaking time depends on the thickness of the avalakki or beaten rice.
Avalakki or beaten rice or poha is used widely through out Karnataka. We use all vareities of beaten rice and there are many recipes, which are in practice. I also have posted many avalakki or poha recipes on this website. Do have a look.
Generally this mosaru avalakki is prepared on festival days or whenever consuming rice is prohibited. Like during vrata or fasting days instead of rice beaten rice is consumed.
I have posted 2 more curd rice recipes on this website. Click here if you are looking for mosaranna or curd rice recipe and click here if you are using siridhanya or millet curd rice recipe.
You can serve this curd rice or mosaranna with any spicy avalakki or poha recipes or with any ricebath.
If you are looking for more Karnataka style breakfast recipes then do visit our breakfast section.
Mosaru avalakki recipe
Preparation time: 15 min
Cooking time: 10 min
Serves: 2

Ingredients: (measuring cup used = 240ml)
1 cup thick beaten rice or gatti avalakki
1 cup thick curd
1/4 cup milk (only if curd is sour)
1/2 tsp mustard seeds
1 tsp urad dal
5 - 6 cashews
4 - 5 curry leaves
1cm length ginger finely chopped
A big pinch of asafoetida or hing
1 green chili or 2 butter milk chili
1 tbsp finely chopped coriander leaves
1 tbsp grated coconut
1/2 tsp sugar (adjust as per your taste)
2 tsp cooking oil
Salt as per your taste
Instructions for making mosaru avalakki:
I have used thick beaten rice. You can use either thin or medium beaten rice. Soaking time varies depending on the thickness. I prefer thick ones for this recipe.
Soak the beaten rice for 10 minutes. As I said earlier, the soaking time varies depending on the thickness of beaten rice. If it is thin beaten rice, then you need not soak it.
Mean while, let's prepare tempering for mosaru avalakki. Heat a frying pan and prepare tempering using oil, mustard seeds and urad dal.
When the mustard seed splutters, add in cashews and chilies. Give a quick mix. If using green chili add it in the next step.
Followed by add in finely chopped ginger, curry leaves and asfoetida. Give a quick mix.
Now reserve some tempering for garnishing.
And then add soaked beaten rice. Drain the water before adding. Give a good mix and switch off the stove.
Add in grated coconut, salt and sugar.

Wait until cool. Once it is cool, add in curd.
Adjust the thickness by adding required curd or milk or butter milk.
Mix well and garnish it with finely chopped coriander leaves, reserved tempering. If you want to add pomegranate add it now. Serve it and enjoy.
Dear reader, We have a brief Kannada description of this recipe. Click here to read this recipe in Kannada.
You might like this: