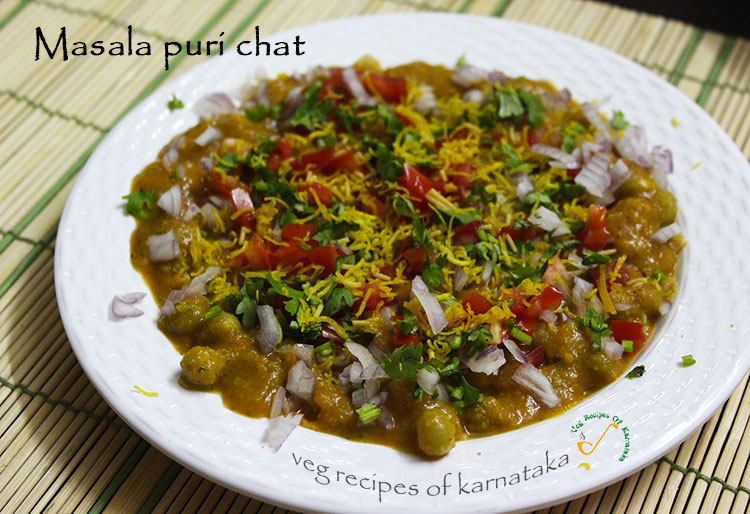 Masala puri recipe explained with step by step pictures. Masala puri is a very popular chaat or street foodrecipe from Karnataka. Masala puri chaat is very tasty street food and is loved by all. Masala puri is very popular throughout Karnataka. This chaat or street food is prepared in different cities like Bangalore, Mysore, Hubli, Davangere, Shimoga, Chikmagaluru, Mangalore, Udupi..almost all parts of Karnataka.
You can find few more street food recipes on this website like nargis mandakki, Mangalore style churumuri, girmit and dry girmit recipes.
Masala puri is my favorite..I like it very much. My all family members know my madness towards masala puri. My journey with masala puri started during my college days in Bangalore. I first tasted masala puri with my childhood friend Rekha and just fell in love with this addictive chaat. Later in my life I have many sweet memories connected to this masala puri. I remember Nirmala stores, my college days, Mysore days, Marathhalli, Thippasandra, BTM layout, JP nagar, Jayanagar 4th block, Balehonnur, K.R Pura, Ujire..like this the list goes on. But now I don't get good masala puri here in Cochin. So I make sure..to visit a chaat centre whenever I visit Bangalore. In Mysore you really get very tasty masala puris. I can never forget my happy hangouts with dear friends Pushpa and Sushma. We were mad of masala puri and baby corn manchurian.
Now coming to the recipe...not every chaat centre serves tasty masala puri in Karnataka. Or I would say the recipe and the taste varies from shop to shop. So it's important to select a good shop to taste the authentic tasty masala puri.Generally cart fellows or fast food joints will serve tasty masala puris.
This is one recipe requested by many people and many times. I would like to apologise them for the delay. I hope they are in search of origianl authentic masala puri recipe and I am dedicating this recipe to them.
If you are looking for snacks recipes then do visit our Karnataka snacks recipes section.
Masala puri recipe
Preparation time: 10 min
Cooking time: 5 min
Serves: 4 plates

Ingredients: (measuring cup used = 240ml)
20 - 25 crispy puri or papdi used for chaats
2 big onion finely chopped
2 big tomato finely chopped
4 tbsp finely chopped coriander leaves
4 tbsp thin sev or plain sev
Ingredients for gravy: (measuring cup used = 240ml)
1/2 cup dried green peas
1/2 potato
1/2 carrot (optional)
1 - 2 green chili
2 tbsp chopped coriander leaves
1 tbsp chopped mint or pudina leaves
1 onion chopped
4 - 5 cloves of garlic
1 cm length ginger
1 tomato chopped
1/2 tsp red chili powder (adjust as per your spice level)
1 tsp pav bhaji powder
1/2 tsp garam masala powder
1/2 tsp chaat masala
A big pinch turmeric powder
Salt as per your taste
Instructions for making masala puri:
For making masala puri, to begin with soak dried green peas overnight.
First let us make the gravy. Take soaked green peas, peeled potato and carrot in a pressure cooker. Add required water and cook until green peas turns soft. Making 2 - 3 whistles would be enough if the green peas is soaked properly.
Meanwhile take chopped onion, ginger and garlic in a pan and start roasting them under medium flame. Roast until onions turn soft.
Next add in slit green chili, coriander leaves and mint (pudina) leaves. Saute until leaves are soft.
Followed by add in chopped tomato and roast until soft. Once done switch off the stove.
Wait until green peas, carrot and potatoes are cooked. After that add the cooked carrot, potato and 2 laddle full of green peas into the pan, which has roasted onion and tomato.
Wait until warm. Grind it into a fine paste using a mixer grinder.
Next transfer it into a container and keep it for boiling. Add in all the powders (garam masala, turmeric, chaat masala, red chili powder and pav bhaji masala).
Add in salt.
Add in remaining cooked green peas along with the cooked water. Adjust the consistency by adding required water.

Mix well and bring it to boil. Taste test it. Adjust the salt, sour and spice level.
Take 5 - 6 puris or papdis in a plate and crush them. You can use shankarpoli, papad and cornflakes too!.
Top it with 4 laddle full of masala puri gravy.
Top it with finely chopped onion.
Top it with finely chopped tomato.
Top it with finely chopped coriander leaves.
Finally top it with thin sev or plain sev. Serve it immediately and enjoy. Please note, optionally you can sprinkle red chili powder, chaat masala powder, green chutney, sweet chutney, curd etc.,
Dear reader, We have a brief Kannada description of this recipe. Click here to read this recipe in Kannada.
You might like this: